Wizard's Lake Powell Adventure -- Part 2
Before I get to finishing my Lake Powell story, I have to pause for a quick word from our sponsor. Cyber Spins is have blackjack tournaments on October 18 and 20 with $1,000 in prize money in each. Personally, I love blackjack tournaments. Remember, in tournaments the object isn't to beat the dealer but to beat the other players. You will probably have to make at least one big move to win. Think of your chips as ammunition not to be wasted in the battle.
That said, in last week's newsletter I began the story of my four-day trip to Lake Powell last month. Where I left off was the middle of the second full day when we almost crashed the houseboat into some rocks barely peaking out of the water.
Our goal that day was Escalante Canyon, a long narrow and windy side canyon of the Colorado River, formed by the Escalante River. The couple that kindly gave us fish the previous day recommended a side canyon to the side canyon called Davis Gulch. After getting a bit lost in the windy Escalante, we found it. However, it was clear our houseboat wouldn't get very deep into that canyon. We then went up Fifty Mile Canyon, the next one up Escalante, but it was the same story, it quickly became too narrow for the house boat.
By this time it was about 4:00 and we were getting worried about finding a camping spot. Escalante didn't seem to have many beaches. However, as panic started to set in, a pretty good small spot appeared directly in front of us after a turn. It wasn't very wide and bordered on all sides by either the river or canyon walls. But there were very few other people in Escalante so it offered a great deal of privacy. It was kind of like a deserted island.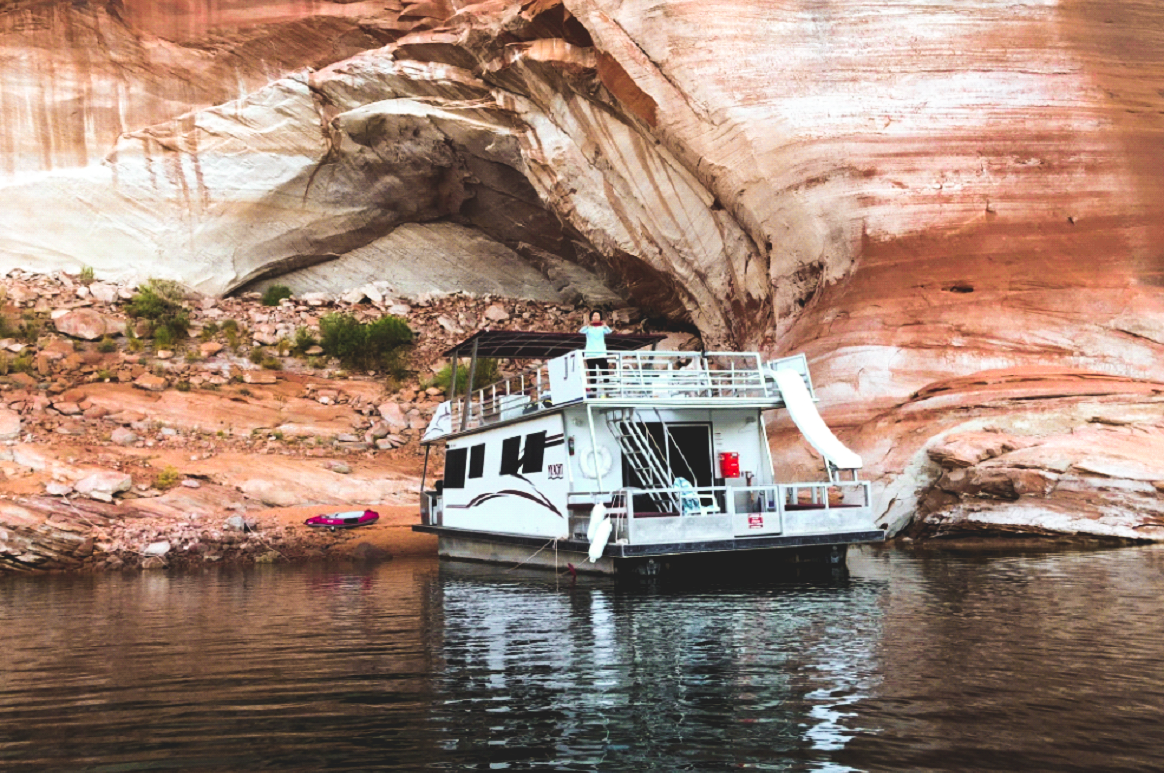 Escalante Canyon - Night 3
After a great parking job by myself *ahem* we enjoyed a quiet evening of eating, drinking, and board games. I also tried to spend time proofreading the final copy of the second edition of Gambling 102, due out mid-October
The following morning we kayaked and paddle-boarded across the river to some climbable sandstone at the end of the river. When I turned on my phone to take some pictures I was shocked to hear several messages come in. Lake Powell is one of the most isolated parts of the lower 48 states so I had no idea how or why I was getting any reception. Not just any reception, but good reception, three bars.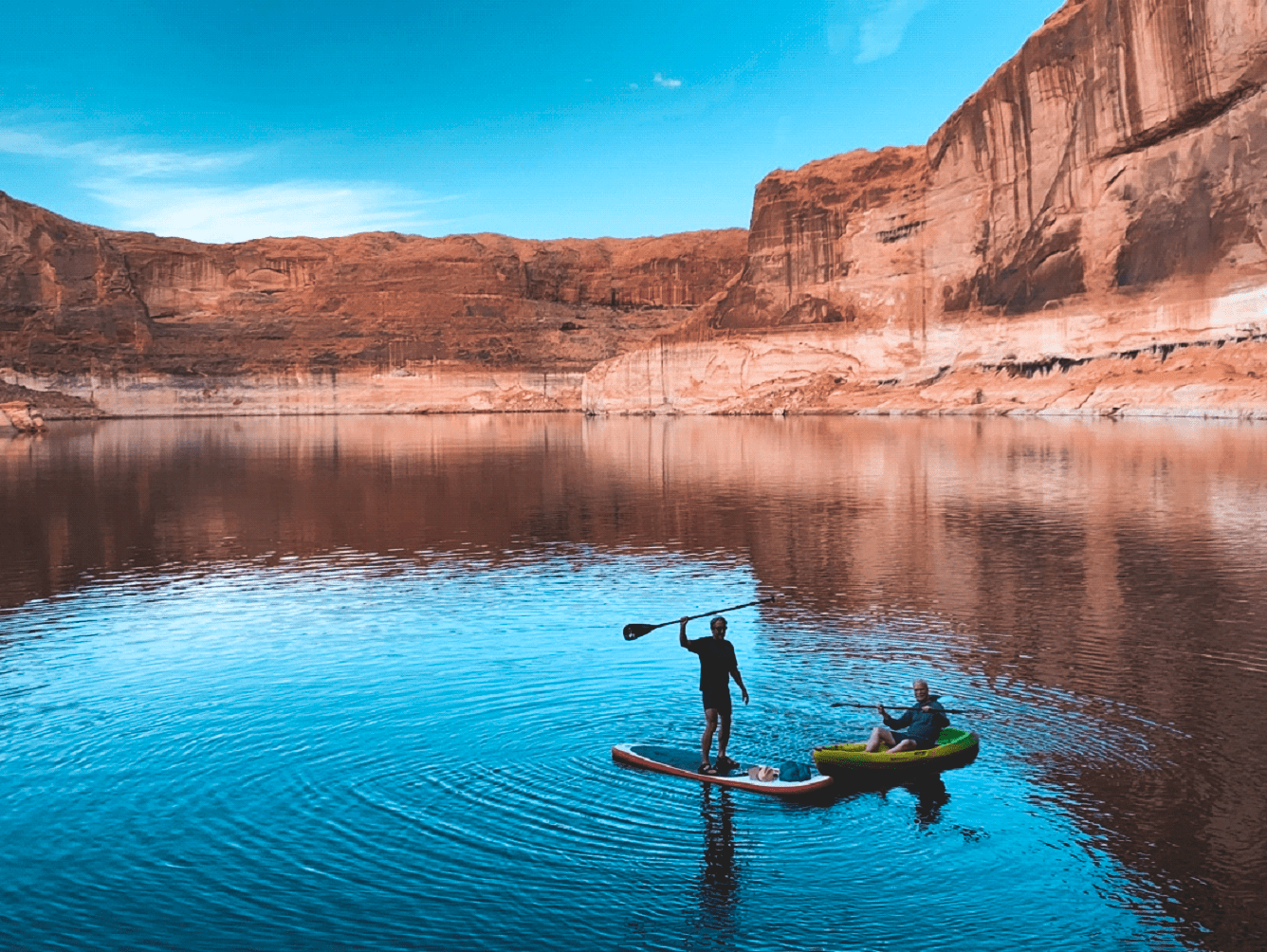 Water fun in Escalante Canyon
This was our last full day and we wanted to get closer to Bullfrog to be able to return the houseboat by 3:00 the next day. Getting back down the canyon was more enjoyable as we didn't get lost and knew our way around better. When we got back to the Colorado River we had the same problem of finding a good campsite. We tried a few side canyons, but it was the same story of the houseboat being too big and the canyons too narrow.
To make a long story short, we ended up back in Iceberg Canyon in a spot near the one we spent our first two nights. We were apprehensive about taking it because it was close to another campsite already taken. When we got within yelling distance, we asked the couple already nearby if they minded if we took the spot near them. They welcomed us and even helped navigate a difficult parking job.
After anchoring the boat, I went over to greet out neighbors. There I met Perry, a man I'll never forget. At the age of 54, my age now, he quit his job and went about backpacking and kayaking the world. In his late 50's he did many things on my bucket list. If it weren't for my obligations as a husband and father of three, I would probably do exactly what he did. After the first of several chats I returned to my camp, lest Mrs. Wizard get jealous.
Camping spot night 4 - back in Iceberg Canyon
After a delicious steak dinner we had our only campfire of the trip, made courtesy of firewood left by previous campers. They even set up everything in a pyramid of sticks, ready to go, with a big stack of wood next to it. Perry came over as it was getting dark and regaled me with more stories of his adventures, including his current one. He was on a trip kayaking up and down Lake Powell both ways - three times! This would be a distance of almost 600 miles. As I recall, he said it would take him two months. He had done if before and planned to do it again in 2020. He invited me to join him on a three-week portion of it next year. Not that I have a choice, but I would love to go.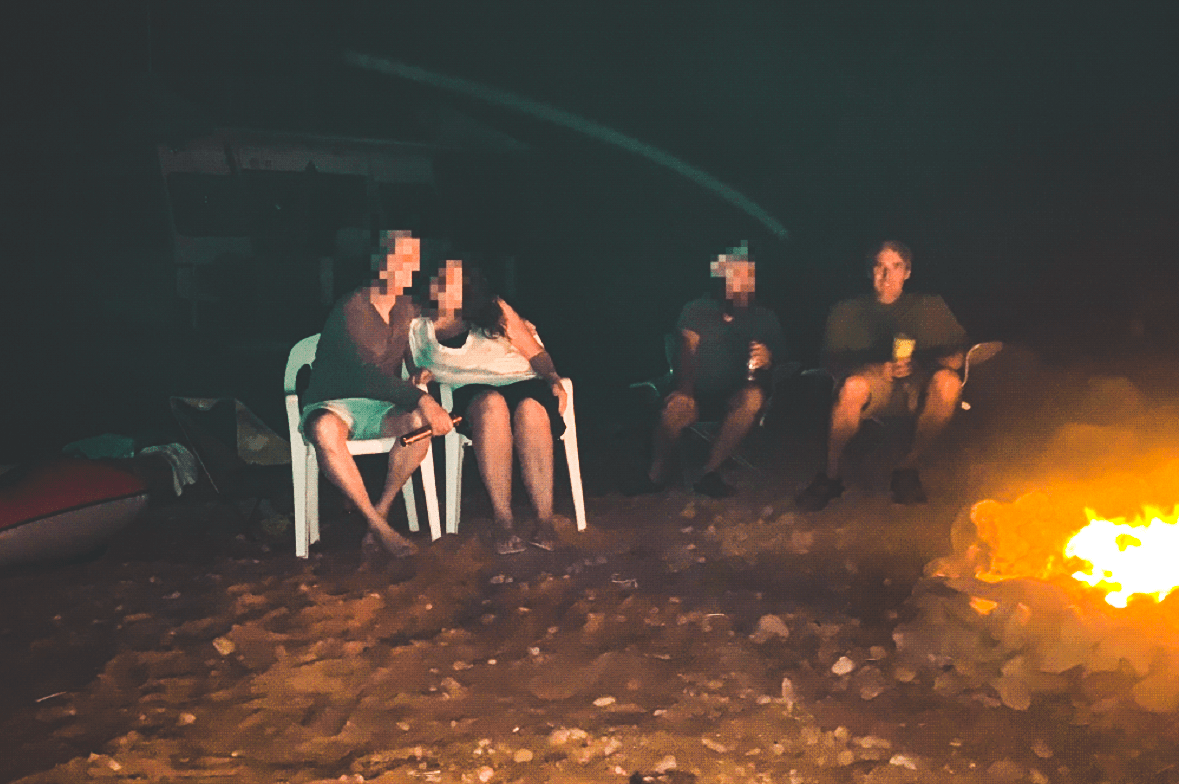 Campfire night 4 - Discussing adventures with Perry over beers
The final day we had a few more hours of water fun in the morning and then had to bid farewell to Perry and his girlfriend, our campsite, and then Iceberg Canyon. We made our way back to Bullfrog as we ate on more fish kindly given to us by Perry, caught fresh that morning. Back at the marina, I got a little lost trying to find the gas station, but managed to return the boat by the 3:00 deadline. In the process I ran over a buoy (I can never remember how to spell that word), but both buoy and boat seemed to have survived the experience unscathed. Still, it was scary listening to it clonk on the bottom of the boat as I passed over it
It was bittersweet leaving, happy for the experience, but sad to end it. I am very sure I'll be back to Lake Powell again. This is one of the most beautiful places I've ever been and known to so few. I HIGHLY recommend it to anybody with a love of the outdoors.
In closing here is a list of things I recommend bringing, many of which I didn't know to bring:
Sleeping bags and pads/blankets to enjoy sleeping under the stars.
Firewood. Enough for a fire every evening.
Fishing poles and all the fixings. I found the bait that worked best was bread and roast beef. I find bait and lures that fish are supposed to like, they largely ignore. Then again, I have no idea what to pick.
Flashlights.
Small watercraft, especially kayaks and stand-up-paddleboards.
A good detailed map.
Alcohol.
An extra bathing suit (mine got lost somehow, probably blew off the railing when I was drying it).
A wide-brimmed hat.
Blocks of ice. Do not get crushed ice - it melts much faster. A block of ice in an ice chest should last about a week. I would also not get dry ice, I find it melts about as fast as a block of ice, but much more expensive.
Links: