Last Updated: January 18, 2019
Wizard Of Odds Weekly Update January 18, 2019
Last weekend I paid a visit to Laughlin. For those who haven't heard of it, Laughlin is a small gambling hot spot near the southern tip of Nevada. It caters to an elderly crowd compared to Las Vegas. Prices for everything are genreally cheaper than Las Vegas and table minimums lower. If you don't need the excitement of Las Vegas and the location is not an issue, then I think Laughlin makes a sense as an alternative. I wrote a detailed article about Laughin in 2012.
There were two main purposes of this trip. One was to deliver my 1932 run of license plates, meaning at least one from every state and sometimes a matching pair, to the automobile museum at the Riverside. I already have a 1941 run proudly on display there.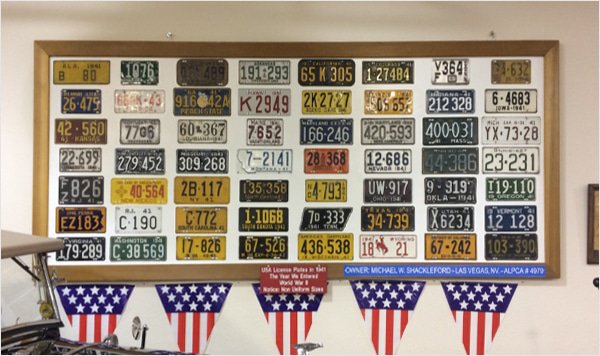 The second reason was to renew my Diamond status with the Caesars Total Reward program. There are lots of benefits to it, including:
Plenty of free room and promotion offers.
Free parking at any property.
Priority lines for anything that might have a line.
Lower restaurant prices.
Two free show tickets once a month, although the more expensive shows tend to not be on the approved list.
$100 one-time restaurant voucher.
It used to be that you got access to Diamond Lounges, which had free drinks and low-level snacks. However, they changed that rule and now you need to be what I'll call "Double Diamond" to get in, which takes twice the tier credits as normal Diamond status. No big deal, the quality of the food has gone downhill significantly.
It takes 15,000 tier credits to get Diamond Status, which I think lasts from the time you earn it until January 31 of the following year. So, early in a calendar year is a good time to achieve it, as you get to enjoy it longer.
In video poker, you get one tier credit for every $10 bet. That would mean $150,000 in play. However, there is a way to cut that by 2/3. If you earn 2,500 to 4,999 tier credits in a "day," then you will get a 5,000 tier credit bonus. If you earn 5,000 or more tier credits in a "day," then you get a 10,000 credit bonus. You may do only one of these bonuses per "day." You don't need to ask for the bonus credits, they will get added within 24 hours automatically.
Why do I keep putting "day" in quotation marks, you might ask. It is because for purposes of this promotion a "day" may not be a midnight to midnight day, but each property may start a new day at different times. Harrah's Laughlin, for example, starts a new "day" at 4 AM.
What I did was earn 2,500 tier credits on Friday and another 2,500 on Sunday. Each earned a 5,000 credit bonus both days, so I'm at my 15,000 and good for another year.
What is the expected cost of this play, you may ask. The best game at Harrah's Laughlin is 8-5 Bonus Poker, with a return of 99.17%. However that is a minimum $5 game. As I wrote before, for many video poker players, including me, jackpots will now be taxable because of the increase in the standard deduction. So, I chose a less volatile game, with fewer jackpots, 25-cent 10-play Illinois deuces at a return of 98.91%. The expected loss of $50,000 of action at a 1.09% house edge is $545. Is that worth it? For me it is, but you'll have to ask yourself that question
I should also mention that Harrah's and Harveys in Lake Tahoe have 9-6 jacks or better in 10-cent 100-play when last I was there, a few years ago, but don't know if they still do. It was not worth my bother to go that far for the higher return.
In closing, if you go to the automobile museum, be sure to look for my license plate displays and say hello to "Bud," the guy who runs it. He is about the nicest person I've ever met.